6 INCH OVERSIZED RESIDENTIAL RAIN GUTTERS & DOWNSPOUTS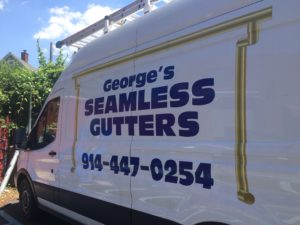 Oversized 6″ gutters are able to move approximately 35% more water volume than a standard 5″ seamless gutter system. When we install oversized 6" gutter systems we pair them with oversized downspouts. Creating a larger more robust gutter system capable of carrying away more water, further and faster.
When installing gutter systems on larger homes or even commercial buildings 6″ gutters are the best solution.
WESTCHESTER NY, 6 IN OVERSIZED GUTTERS
Our oversized gutter systems are able to carry away more water. We have seen an increase in the demand and popularity of oversized gutters in the Westchester County area in the last few years. As houses are built bigger – larger gutter systems are required to serve them. Our oversized gutter systems are available in: aluminum (with color gutter design), copper and other materials as required by the homeowner or builder, gutter customizations are available and popular.
Certain home styles benefit from larger oversized gutter systems. Homes like ranches, certain capes, many colonial homes and certain Victorians require oversized gutter systems to fight overflowing during heavy rains.
On Colonial and Victorian homes roofs are steeper then on other styles, during a downpour more rain enters the gutters faster. This can overwhelm a standard 5" gutter.
Does your gutter system have long runs? A steep roof? A two level gutter system? (…do you have upper gutters, draining into lower gutters?), do your roof lines channel water into certain concentrated areas?
Oversized gutters may be right for your home. Together we can analyze your homes drainage needs and fit your Westchester County home with the proper gutter system for its unique style.
At George's Seamless Gutters honest advice and project estimates are always free!