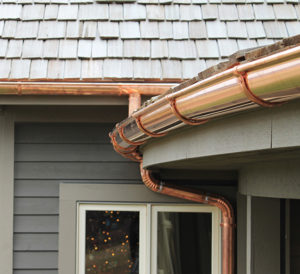 George's Seamless Gutters, proudly serves Kent NY and the surrounding Putnam County towns. Our gutter company is a locally owned, ecologically minded small business.
All of our gutter installations are completed using top quality, custom crafted gutters made in our Westchester County gutter shop or the back of our mobile box-trucks.
It is important your homes size, and unique characteristics are considered before selecting your homes gutter system. In Kent, NY many homes are larger then homes were 20 years ago when a standard 5″ gutter went on every home without question or consideration. If your home is larger, that means your home's footprint puts off more water then is considered standard. Enough water to overwhelm a standard gutter system. For larger homes, my team installs oversize- 6″ gutters. That one inch allows your gutter system to redirect more than 35% of the water volume that a standard seamless gutter system can. My team will ensure your home is ready to handle whatever mother nature throws at it!
At George's Seamless Gutters – gutters, are our sole focus – this allows us to offer more gutter types to our customers and at a better price then most other gutter companies in the Putnam County area.
All of our gutters are seamless and made to order! That makes a big difference to the look, feel and function of your Kent home's gutter installation. We have partnered with Kent, NY homeowners on gutter installation projects of all kinds and sizes, from copper gutter installation to custom color gutter design to fully custom gutter fabrication. With my gutter company, you have more gutter options! Gutters are becoming a design element on homes check out what some folks are doing on Houzz.
"I hired George this past spring - after suffering with damage caused by our previous winters ice dams. He came right out after I called him, assessed my gutter damage and helped me select a gutter system right for my home. I recommend him to all my family and friends! Great job! Thanks George!"
"These guys are doing it right, they could teach a thing or two to many other service providers here in Putnam. I called them at noon, told them what was happening at my home (pooling water from roof runoff on my yard), and later that day, before the sun went down, George was there, clipboard in hand he educated me about gutter design and styles, diagnosed the problem, and scheduled a day/time for the installation. Fantastic service!"
Look to my Putnam County gutter installation company for the following gutter services:
At George's Seamless Gutters; we install gutters that provide lasting protection from the elements as well as the test of time. My gutter company provides customers with the family feel of a small business while delivering the highest quality gutter installation service found anywhere.
Kent NY Seamless Gutter Installation + Gutter Repair
"These guys are doing it right, they could teach a thing or two to many other service providers here in Putnam. I called them at noon, told them what was happening at my home (pooling water from roof runoff on my yard), and later that day, before the sun went down, George was there, clipboard in hand he educated me about gutter design and styles, diagnosed the problem, and scheduled a day/time for the installation. Fantastic service!"
At George's Seamless Gutters honest advice and estimates are always free!
If you have any questions, please give us a call 914-447-0254
Kent NY Gutter Installation + Gutter Repair