Copper Gutter Installation Putnam County NY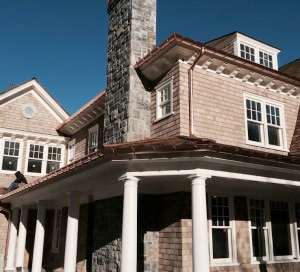 Copper gutters give your home an architectural detail that will not only increase the curb appeal of your house but greatly enhance its overall value. And that's just on the outside. Copper is also a great construction material that provides strong, sturdy functionality for use as a gutter.
Copper is also a great construction material that provides strong, sturdy functionality for use as a gutter.
Copper gutters are self-sealing and ensure a leak proof gutter system. Over time copper creates its own natural protective layer known as patina. Copper gutters all age and look a bit differently adding a truly unique flare to each home they adorn.
We offer complete copper gutter service and are proud to have a brand new copper gutter maker on site! We custom craft our copper gutters offering half-round and K-style options. Copper gutters are perfect for many of the historic homes in Westchester County, Yonkers, Putnam and Fairfield, County. We have experience working with homeowners and contractors alike. Together we will find the right copper gutter style and design for your home.
Copper Gutter Guards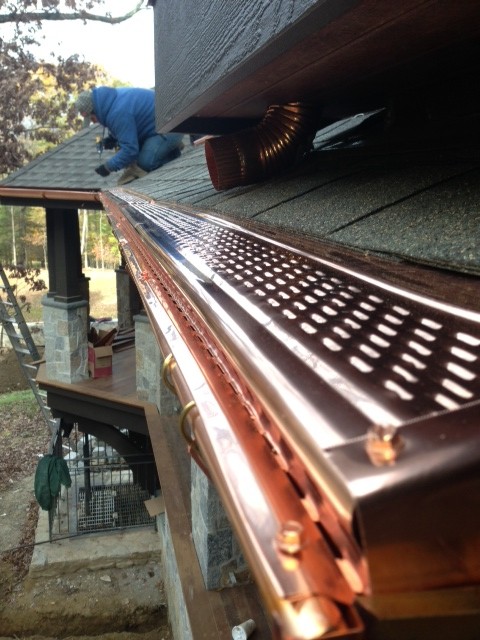 Gutter guards serve as leaf and debris protection systems for your gutters. The pros at HGTV say you should definitely use gutter guards, and I agree. The cost savings or ROI is amazing. Some gutter company's in our area only provide gutter cleaning and for no reason. Gutter guard installation brings with it a one time gutter guard installation fee and  normally require low-to-no upkeep!
Are you looking for a copper gutter guard? We have them! This is one time we feel safe saying we have it all! Gutter replacement and installation from planning to post. We know gutters are an important part of every home's maintenance and every gutter system is special. Home size, roof type, location and age are all important criteria to consider when choosing a copper gutter system. We know nearly all there is to know about residential and commercial gutters and are ready to help you select the best copper gutter system for your home or business.
We offer a wide range of copper gutter and copper metal services including:
European style half round copper rain gutters
Radius gutters in copper
K style copper rain gutter
Copper downspouts + leaders
Copper hangers
Copper elbows
Copper miters and corners
Copper conductor heads
Copper end caps
Copper flashing
Copper window awnings and more!
At George's Seamless Gutters honest advice and project estimates are always free!